So many books, blogs, and podcasts purport to help you in writing your own success story, to help you develop your purpose. Finding the passion that lies deep within to drive you for the rest of your life seems to be a struggle for so many of us.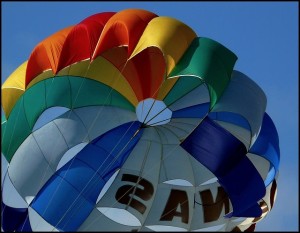 Yet we never seem to find the answer.
Skydiving with Parachutes
I was luckier than most when I was younger. While in college, I purchased the first edition of What Color is Your Parachute by Richard Bolles. Not having a career and not knowing much of anything else, I followed the exercises and developed guiding principles.
Although my work experience was minimal, I developed a ten-page résumé, typed on 100% cotton paper, and I always got an interview.
I was lucky and naive. And I interviewed backwards from conventional wisdom. I interviewed the company to see if they had a position I would be interested in.
It is hard to find something fresh and new about finding your purpose in life, especially when you are younger. Most career books are filled with clichés and are out of touch with the struggles of an early career adventurer.
Francisco Marconi recently wrote a wonderful essay, entitled "Frankly Speaking: How I Found Purpose," articulating the creation of his own success story. Here is his six-point playbook:
Rule #1 – You Are on Your Own
Craft a clear strategy for accomplishing your goals.
Rule #2 – I Ink Therefore I Am
Write down your goals.
Rule #3 – Moonlight
Find a creative outlet to enhance your overall performance.
Rule #4 – Know Why You Do
Tell people the meaningful aspect of your work.
Rule #5 – Become a Ninja
Take Time To Disconnect and Recharge.
Rule #6 – Save Your Strength
Eliminate unimportant decisions in your life.
Marconi's book is a good read, a little different, and might get you thinking differently about writing your own success story.